What started as a walk with friends on the fringes of the Yorkshire Moors developed into a thrilling encounter with an early 19th century clock and the inevitable meeting with a mid-20th century mantel clock. Serendipity, or more?
*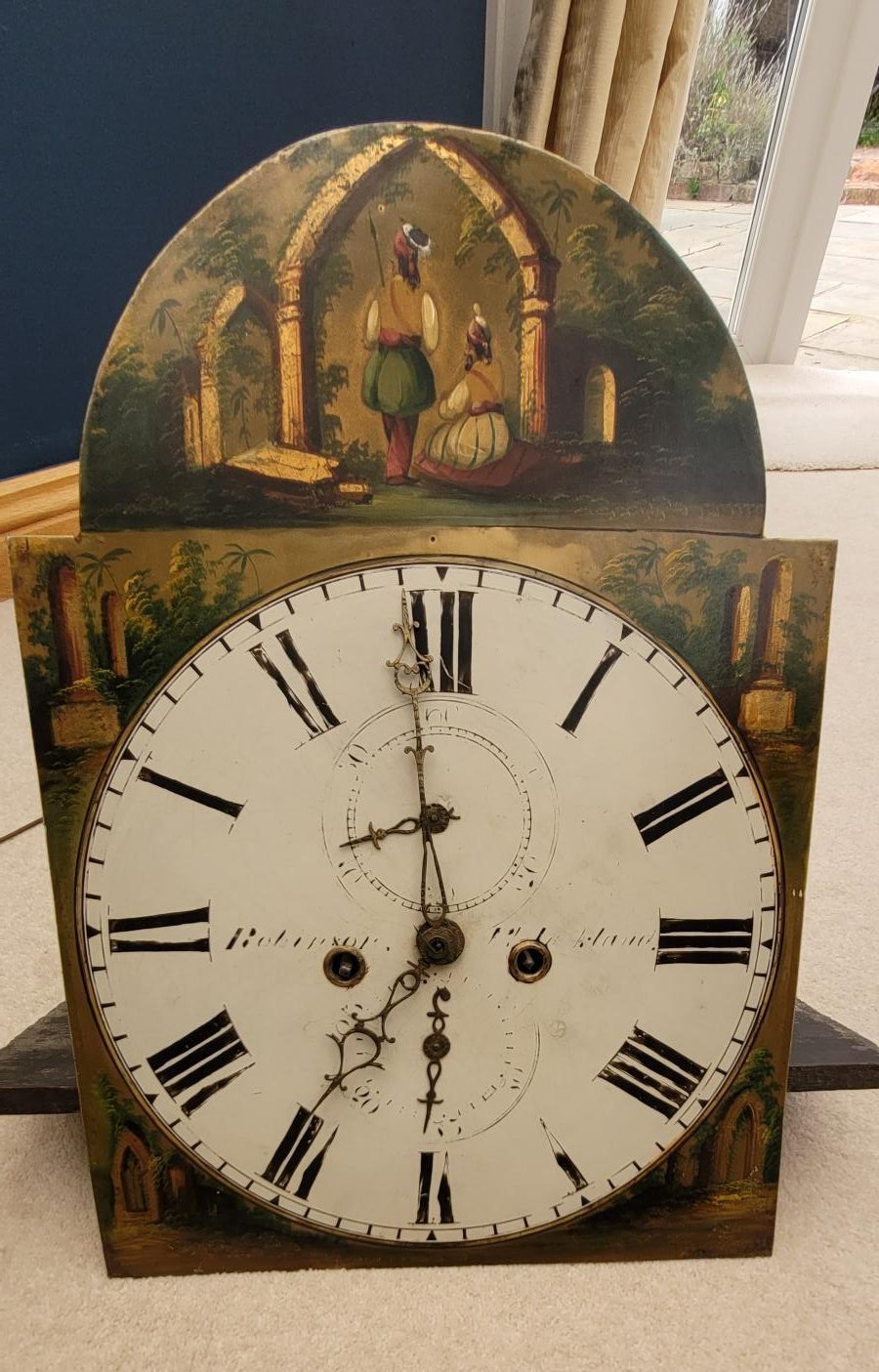 I love clocks, but ever since before I can even remember I have loved words too.
When I was younger the word I most enjoyed was 'serendipity'. Later, I favoured 'curmudgeonly'. Both have such a mellifluous resonance. But this is a clock story built on another word – reciprocity – with some signs of serendipity but not a hint of the curmudgeon about it.
Serendipity – unexpected good fortune. I loved the idea of that, and the sound of the word too, strangely onomatopoeic for an abstract concept. But the more I progress through life, the more I think that chance good fortune isn't so unexpected after all. It comes from an attitude, a frame of mind, an outlook, an openness to opportunity.
And that's what happened. Towards the end of our stroll we met a lone walker, Gary, out exercising his dog. He lives in the village on the Western edge of the Yorkshire Moors and owns a letting holiday home in a North Yorkshire coastal village of Staithes. It's called Johnny Reb Cottage and it's five star rated.  Check it out.
We chatted for a good while, and I gave him my card so he could send us a link to his holiday cottage. I thought nothing more about it.
Time passes
It was several months later that Gary and partner Sonia made contact again. They had a clock. Gary wondered if I could do anything with it. He feared it was beyond repair. It had been in his garage for five years. Before that it had stood ornamentally in a relative's hallway. It had not worked for forty years.
Send pictures I said, and he did.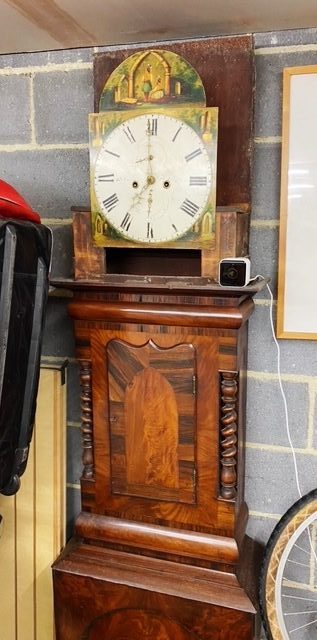 Here it is. A classic example of a northern longcase clock from the first half of the 19th century. They are derided as 'vulgar' by some clock purists, for their squat appearance and wide trunk, inelegant stubby door and sometimes garish, sometimes sentimental painted dials. They have seldom been in favour. But to their pre-Victorian owners, probably rising middle class tradespeople or farmers, they will have represented status and wealth. And I love them.
I took a guess at 1820-30 as a date for this one. I'll happily stand corrected if anyone provides evidence to the contrary.
And another thing…
I said I would love to pop over and take a look at it, to see what state it was in and whether it was retrievable. And before I could fix a date Gary came back to me with the inevitable. "While you're at it, I have another clock," he said. "It's a mantel clock and it doesn't work. Here's a picture."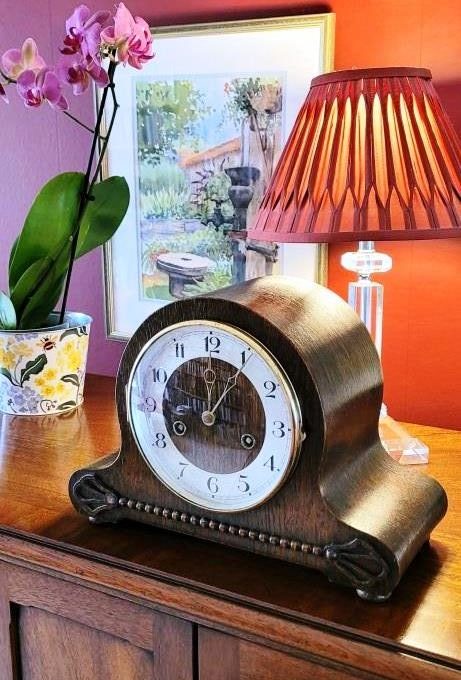 It is exactly the clock everyone's Nan had, and I find them irresistible in their ubiquity (another favourite word from younger days).
Grime – and a growing sense of excitement
Eventually, we meet – and I take away the mantel clock in its entirety. Of the longcase clock, I take just the movement and dial, on the seat board, with two weights and what's left of the pendulum rod and a solitary pulley wheel. I also take with me plenty of encased dirt and grime, and a growing sense of excitement.
Back in the growlery, I remove the hands, separate the movement from the dial and set aside the longcase clock.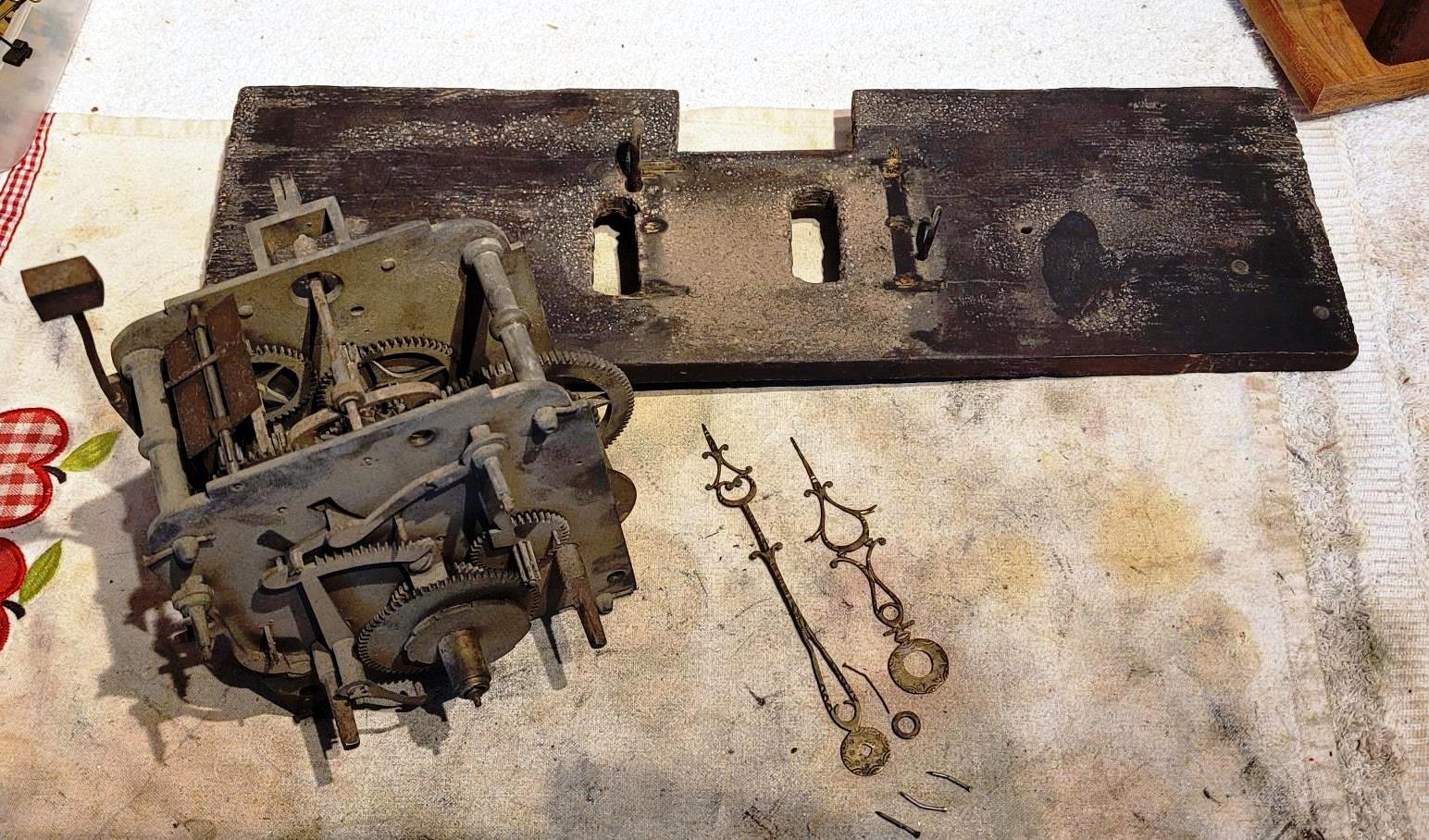 Fit to grace any lounge
Instead I focus first on the mantel clock, removing it from its case to see it is a Hamburg American Clock Company (HAC) movement which, provided it was made before the takeover by Junghans, dates it to pre-1930.
The case is jaded. The movement is grubby but intact and, with a little TLC and minor adjustment, soon back to keeping perfect time. Some liquid case restorer quickly removes the layer of grime and restores to the case an easy sheen, fit to grace any lounge from the 1930s to the present day. And that's where it sits now, providing pleasure whilst awaiting its return to its owner.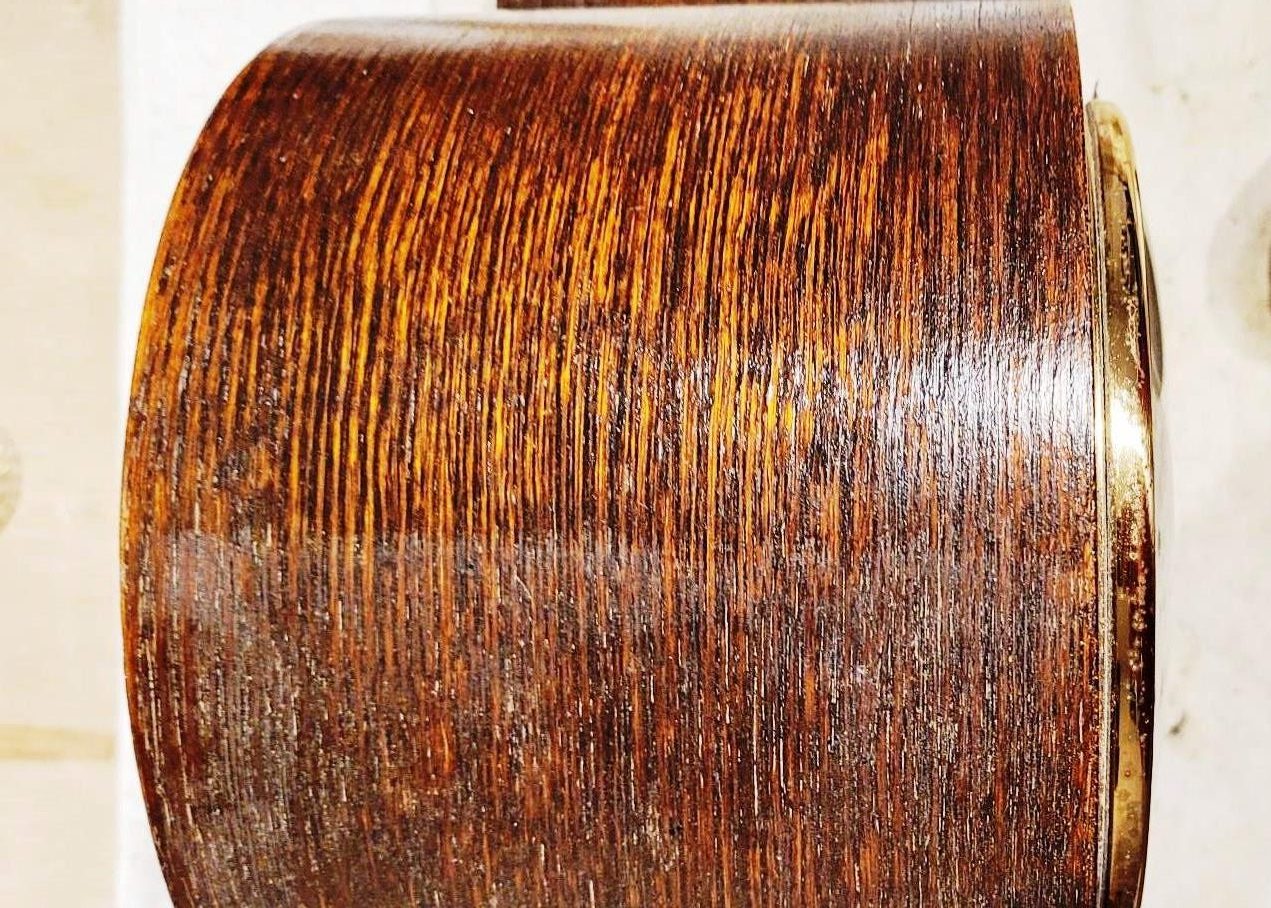 Monetarily, it is worth nothing much. But it has a history and it has its own period style and, almost 100 years since it was made, it does the job it was designed to do, without a fuss. Everyone's Nan had one – every current day home should too.
So, back to the longcase
Assuming the dial is original to the movement, and there is nothing to suggest it isn't, the clock was made by Robinson of Bishop Auckland, in the north east of England. For now, I have not managed to find out more about the maker. There is the suggestion of a Joseph Robinson, clockmaker, trading in Bishop Auckland in the early 19th century but no detail. There is a William Robinson, clockmaker, trading in Bondgate, Darlington in 1827/8. In the same year, a Joseph Robson, clockmaker, is trading from Far Bondgate in Bishop Auckland. But this, as with restoring the clock to full working order, is currently work in progress.
Careful dismantling of the movement suggests there are few major flaws, just a lot of dirt from years of neglect. The crutch arm is broken with signs of some bad soldering from a previous repair, since which the last two inches of the arm, with the sleeve for the suspension spring, are nowhere to be found.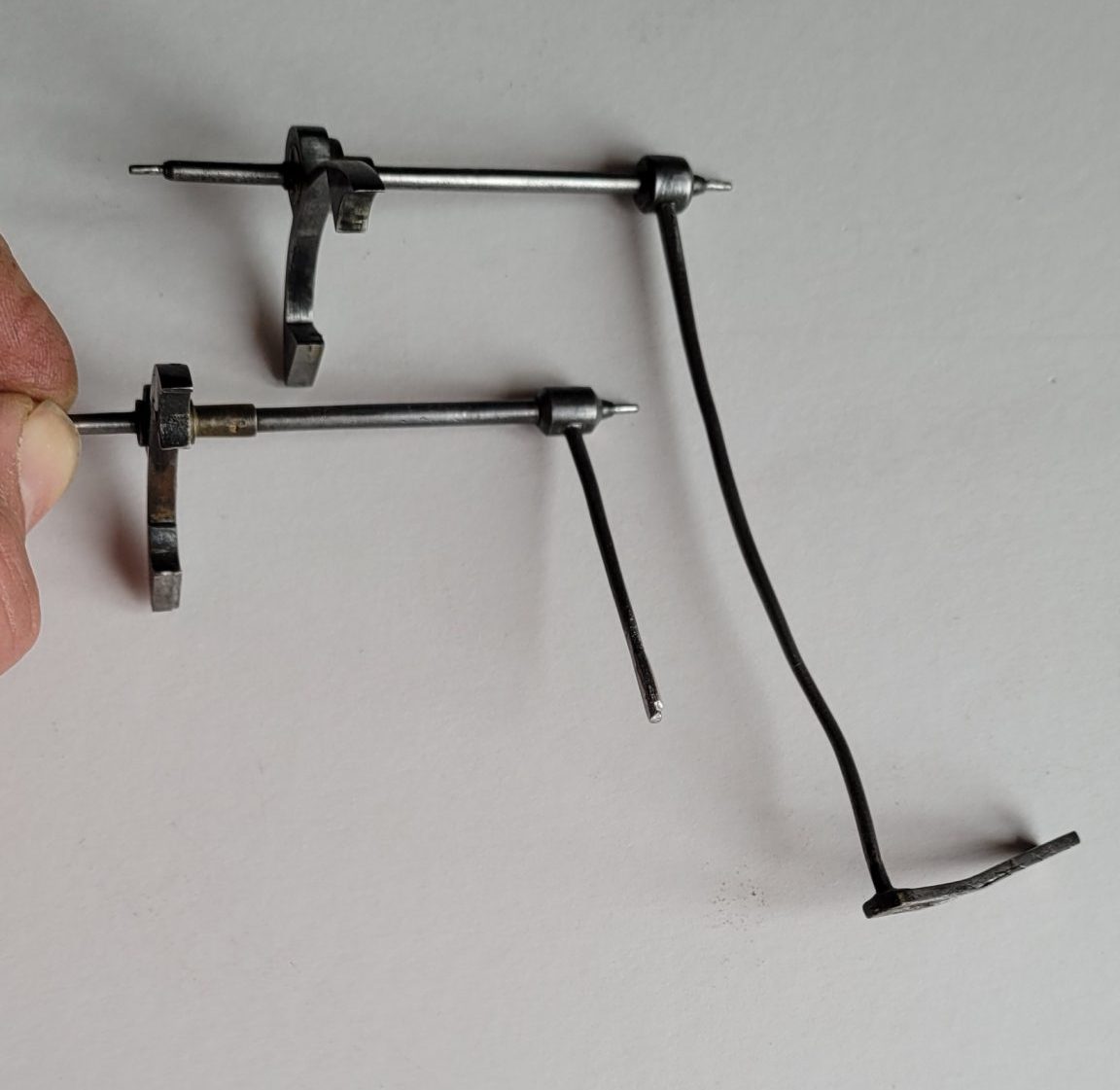 Some good specialist cleaning fluid, and an afternoon of gently abrasive brushing with an old toothbrush interspersed with time in the ultrasonic tank sees the dirt removed and the return of a brass lustre to the plates, pillars and wheels. The movement reassembles with surprising ease. With everything comfortably in place, both going and strike trains turn as smoothly as the day they were made.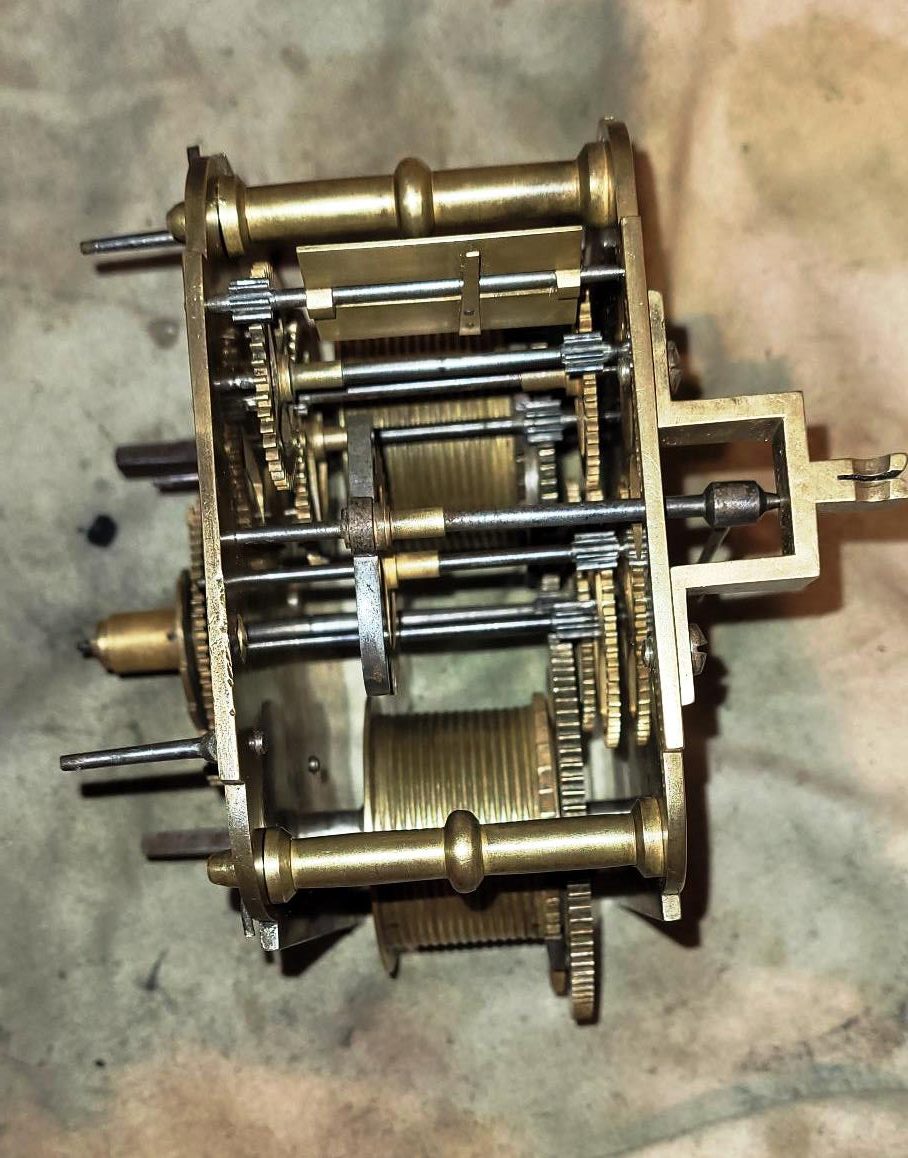 There's a long way to go – this is decidedly work in progress – but so far it feels good. I'll report further on the trickier aspects of restoration still to come, once they are sorted.
Chance good fortune, or something more?
But meanwhile, where is the 'beyond-serendipity' and the reciprocity? Had it not been for a friendly encounter, an openness to conversation with a stranger after two hard years of lockdown, Gary and I would never have exchanged cards, the connections would never have been made.
We engaged.  Gary and Sonia get their lovely clocks fixed, hopefully! I get the pleasure of working on two clocks I would not otherwise have encountered. They offer me, my wife and our two walking companions, free accommodation in their beautiful cottage in Staithes.  I am touched by their kindness. Everybody has gained something.
Call it chance good fortune if you like. I think it is something more, and it starts with an open mind. Curmudgeons take note!
To be continued…