I wonder whether in fifty years' time anyone will be writing nostalgically about their relationship with their Automatic Employee Hours Trackers App.  Only time will tell.  Meanwhile, clock on to this –  it seems that using contemporary technology to monitor workforce behaviour is nothing new.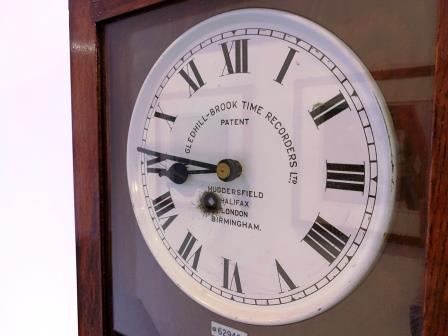 Gledhill-Brook Time Recorder Clock in the entrance lobby at Stanley Harrison House, York.
I'm of an age to remember old-fashioned clocking in at work. I didn't do it using an elegantly oak-cased machine like those produced by the legendary Gledhill-Brook Ltd of Huddersfield in West Yorkshire.
Instead I registered my attendance via a more prosaic battered bland grey box of an electric clock which clung unceremoniously to the wall of the factory workers' entrance to Robirch.  I've no idea whether office staff were subject to the same scrutiny.
Not heaven scent
Robirch was a sausage and meat pie company. Its factory was behind the railway station in Burton-on-Trent. As they travelled from Sheffield and Derby to Birmingham, train passengers would reluctantly imbibe the clingingly sour tang of Robirch with its on-site abattoir. Often the smell was strong enough to overpower even the stench from the neighbouring Bovril factory. Or the noxious rubber bouquet of the Pirelli tyre works. Or the heady scent of the brewery maltings. In the late 60s and 1970s, Burton-on-Trent had so much to offer.
You can imagine what an olfactory relief I felt when I eventually moved to York with its sweet aroma from two chocolate factories filling the summer air.
I've always been a meticulous timekeeper so I actually enjoyed the disciplined certainty of clocking in – firmly pressing the card which featured my name and roll number into the slot at the front of the clock then sliding it, printed, into the adjacent rack.  Then heading off for another day making skinless sausages.
Skinless sausage sabotage
For the record, this was a process so brain-achingly dull that, two weeks into the role, I began deliberately breaking, in turn, each one of the three machines I operated to see if I could still keep up the required production rate using just two whilst simultaneously mending the machine I'd sabotaged. I wasn't quite a Luddite machine wrecker but the spirit was there!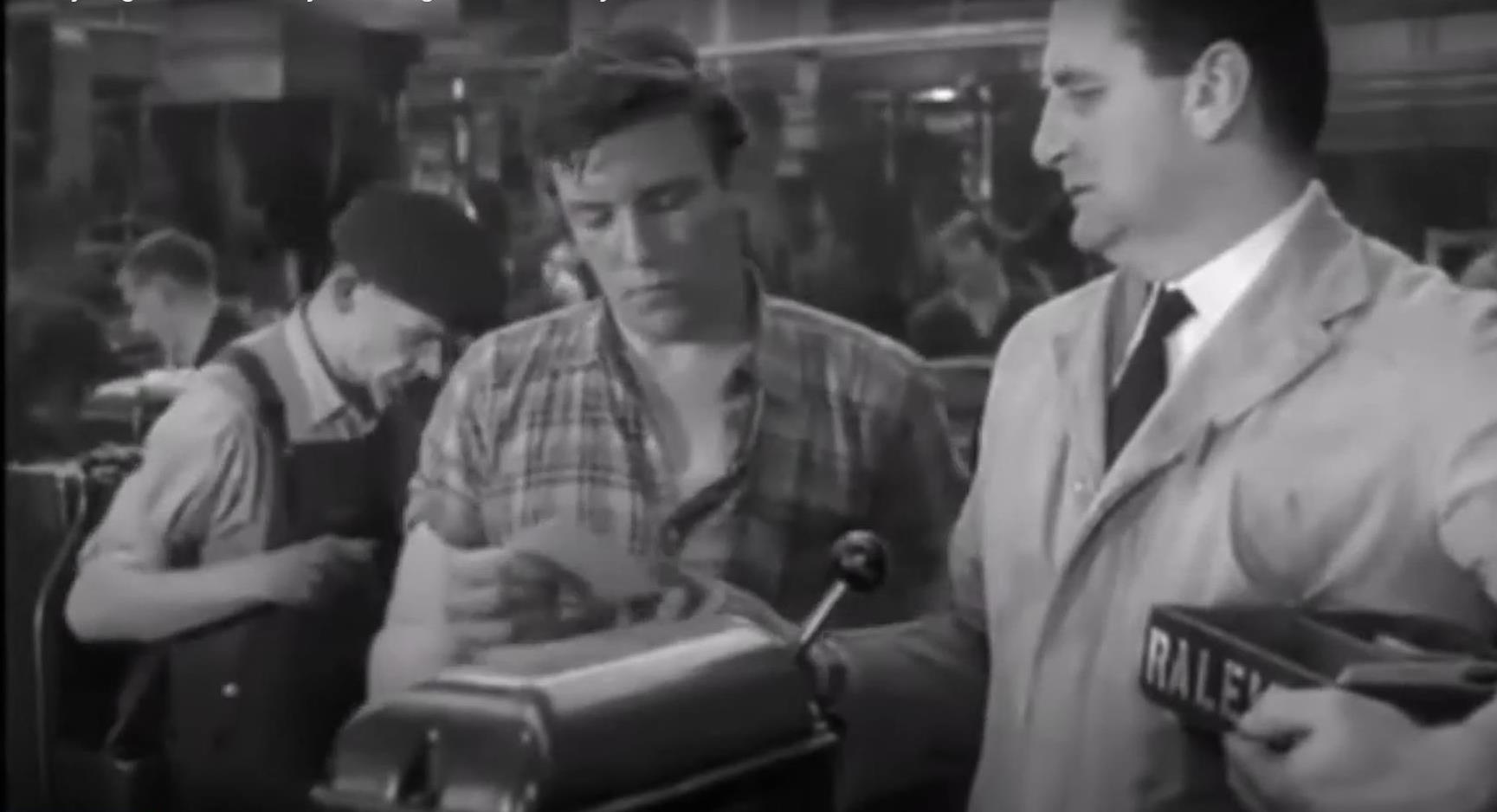 Payday for Arthur Seaton (Albert Finney) in Saturday Night and Sunday Morning (1960)
Clocking in was a part of life, an accurate way of logging attendance, if not productivity. It was the starting point for the process by which those little brown envelopes, dispensed from a low-sided wooden tray, could be relied upon to deliver exactly the right number of neatly folded one, five and ten pound notes and handful of balancing coins, each Friday afternoon. Such simple pleasures – such instant gratification!
But to achieve that level of time-recording accuracy in a pre-digital age required well-made, reliable mechanical clocks.
Night watchman's clocks, or 'tell-tale clocks' as they were often known, were used in the 18th and early 19th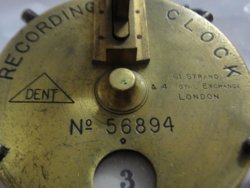 century.  They monitored whether night watchmen had diligently completed their rounds by clocking in at set points on their inspection route.
But these were watchman-specific, not for wider factory use. So in the late 19th century, enter Mr Brook – and soon afterwards, Mr Gledhill.
Checking in? Check it out
Frank Brook was a weaver in a cloth mill in Huddersfield during the 1880s. Workers there would check in by throwing their check – a disc bearing their name or number – through the open window of the timekeeper's office. Disputes arose frequently as the timekeeper was accused of opening the window only for his friends, but not for those with whom he was not on good terms. During heated discussions with the managers, Frank Brook, who ran a small watch repair business on the side, said that an impartial mechanical means of monitoring attendance would work better. He was invited by the mill owners to source one. He did and, working with Swiss clockmaker Ulrich Feicher, provided the first time-recording clock for the mill in 1889.
Hero? Zero!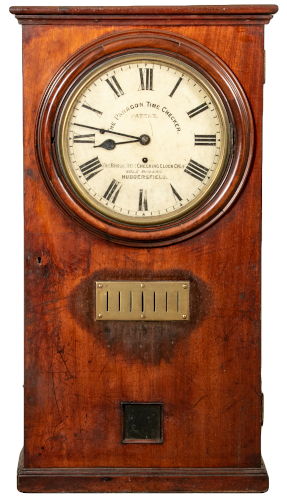 You might expect his fellow workers to hail him as a hero in the pursuit of justice. Far from it. The clocking-in clock was hugely unpopular with many workers. And so was Frank. So he left the mill to concentrate on his time-keeping clock-making endeavours.  He achieved his first patent in 1893 and set up his own company in 1896 to make and market The Paragon time checker machine.
But time ran out for him just three years later and his business folded.

He remained undeterred. After a couple more unsuccessful partnerships, in 1912 he teamed up with thriving cash register manufacturer Arthur Gledhill.  And the rest is industrial history. The Gledhill-Brook Time Recorders Company,  based in Huddersfield, continued supplying high quality fusee clocks, with the addition of a time recording mechanism, to  companies across the UK and beyond until 1964 when it was sold to Massachusetts company Simplex Time Recorder Company which itself closed in 1975.
Saturday Night and Sunday Morning – a Raleighing cry!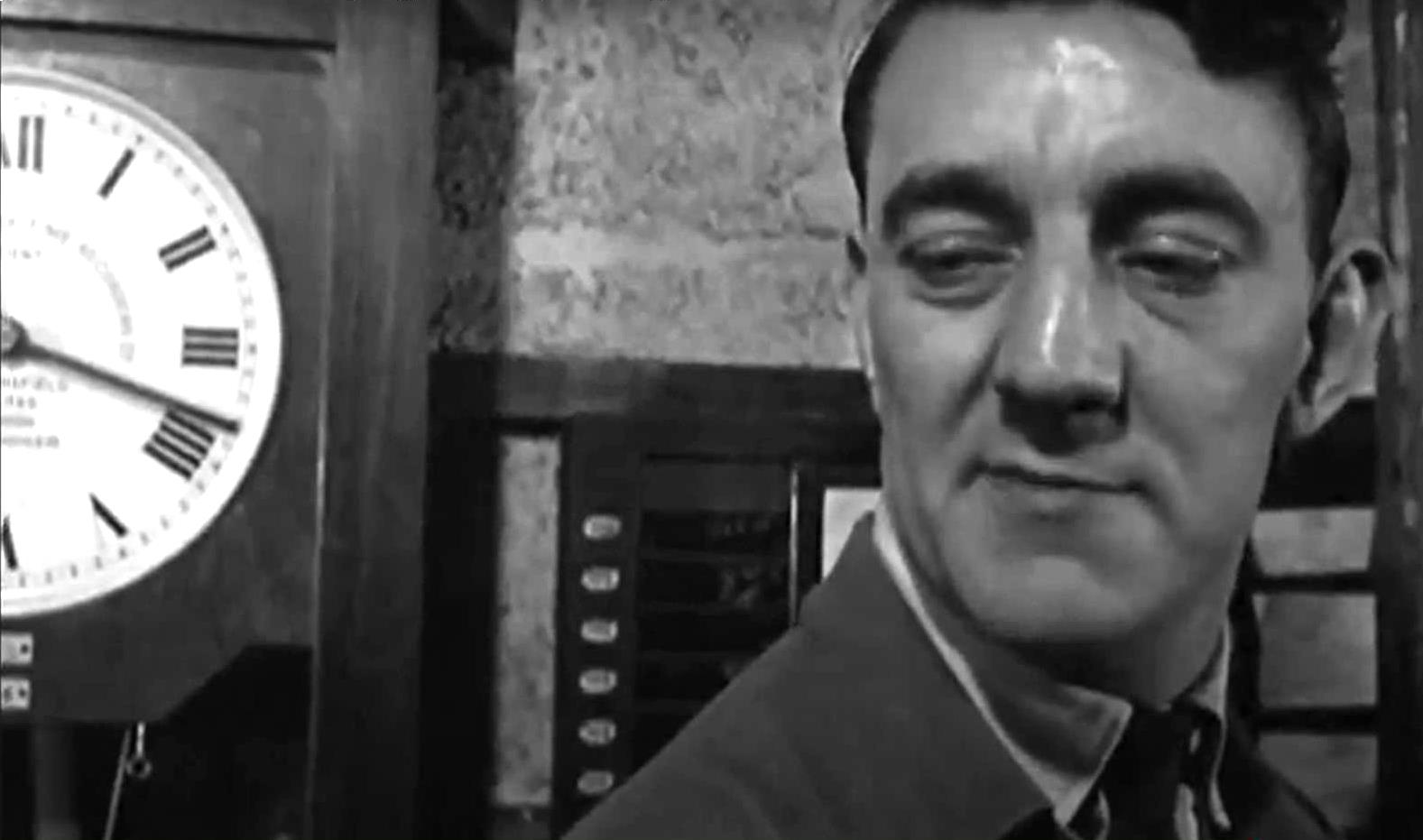 In the 1960 film, Saturday Night and Sunday Morning (always worth revisiting, heralding as it did the era of the working class kitchen sink drama) watch Arthur Seaton arguing with workmates as he clocks out of his shift at the cycle factory in Nottingham where he is a frustrated lathe operator. You will see the Gledhill-Brook Time Recorder in the background. The scenes were filmed at the Raleigh Cycle factory in the city, clocking-in clocks a standard part of life there and in factories across the country. They had become an integral feature of our industrial heritage, and they are still around today, collectors' items for the connoisseur.
It's not Terry's – it's time
A Gledhill-Brook identical to that in the film is currently installed in the entrance hallway at Stanley Harrison House in York. It graces the stylish space – strong, elegant, forthright. It serves as a reminder of the building's past. And it keeps perfect time. It is only for show though – a relieved Harrison staff aren't required to clock in these days.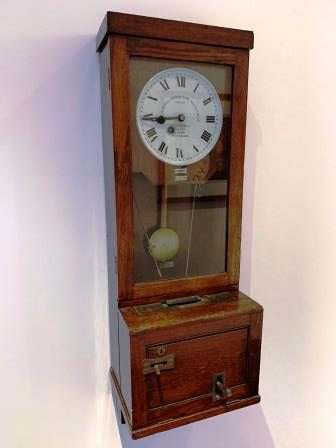 That building has its own place in the history of time. Now HQ to S Harrison Developments, the 1920/30s two-storey structure was originally called The Time Office.  It was a key part of the famous chocolate maker Terry's of York's site. In the chocolate factory's heyday, literally thousands of clock cards would be processed daily there.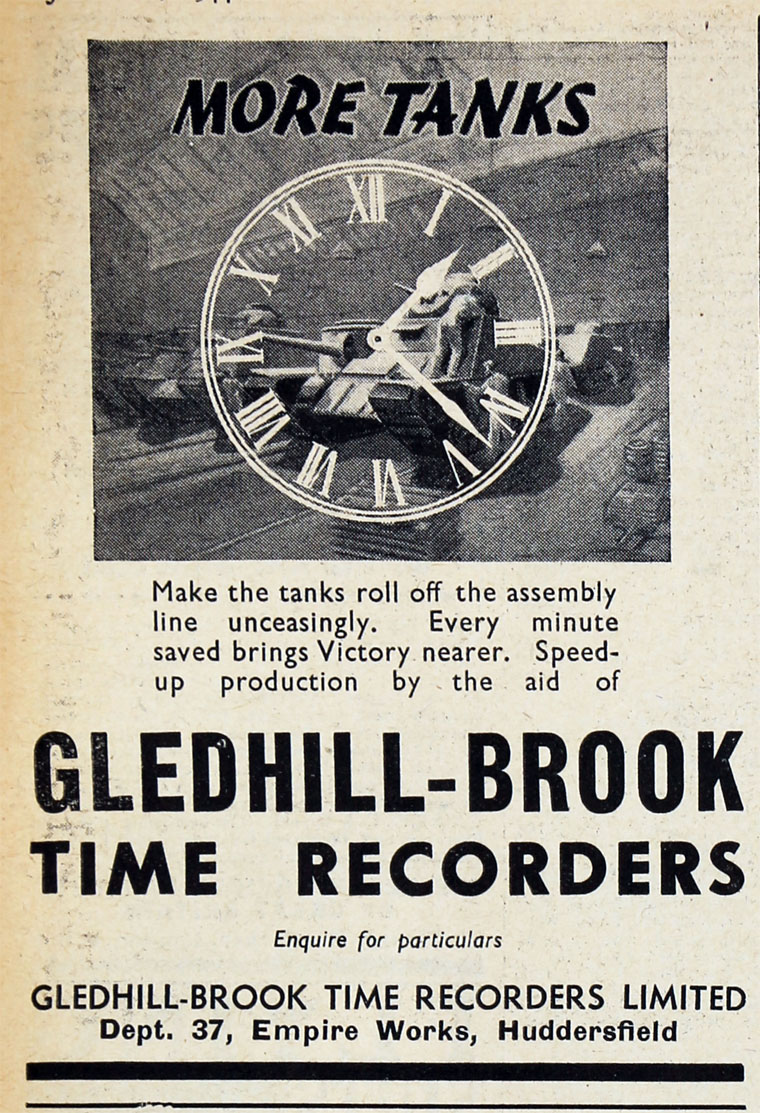 Clock history – on the move again
And just yards from the Gledhill-Brook in Harrison's hallway, one more piece of industrial history is on the move.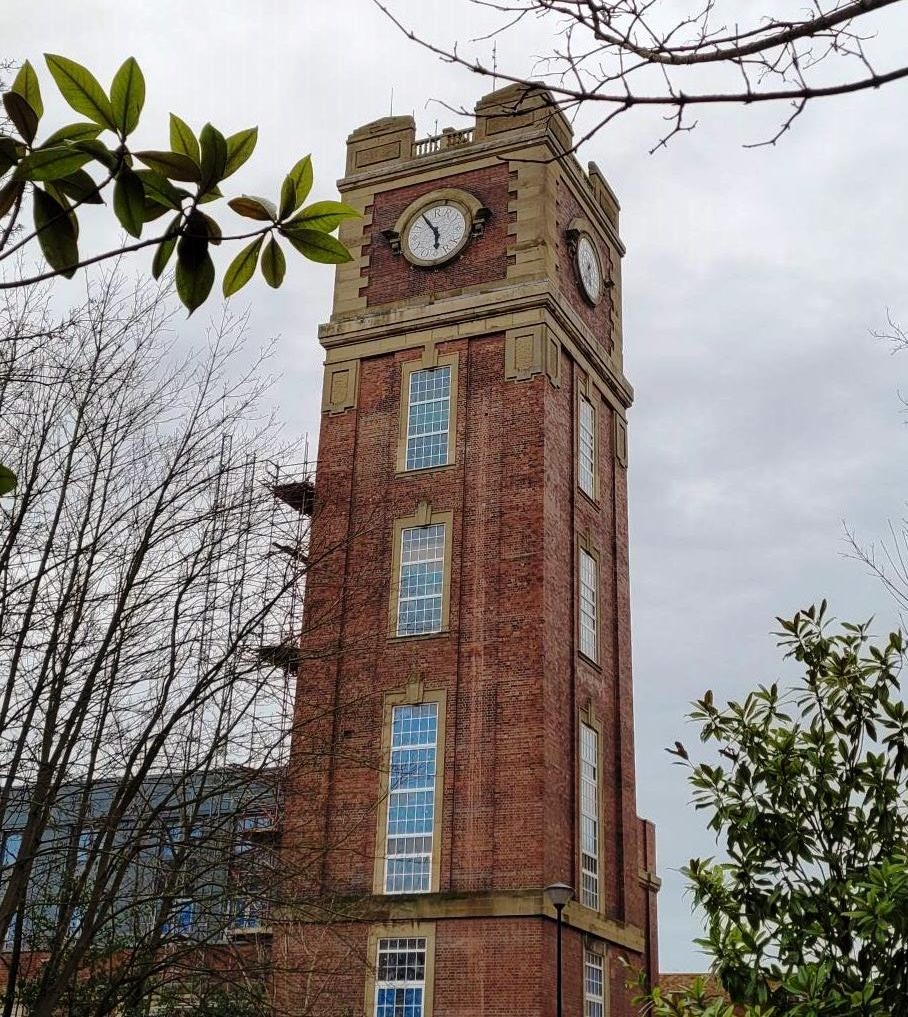 The landmark clock in the clock tower at the Terry's site has been still and silent since 2005.  Now it is being given a new lease of life.
In keeping with the times, the Terry's site, formerly workplace for thousands of Yorkies, is now mostly given over to luxury apartments. The PJ Livesey Group, which converted the original main factory building into residences, is now converting the clock tower into new homes. In the process, they commissioned experts from Smith of Derby to bring the clock back into working order.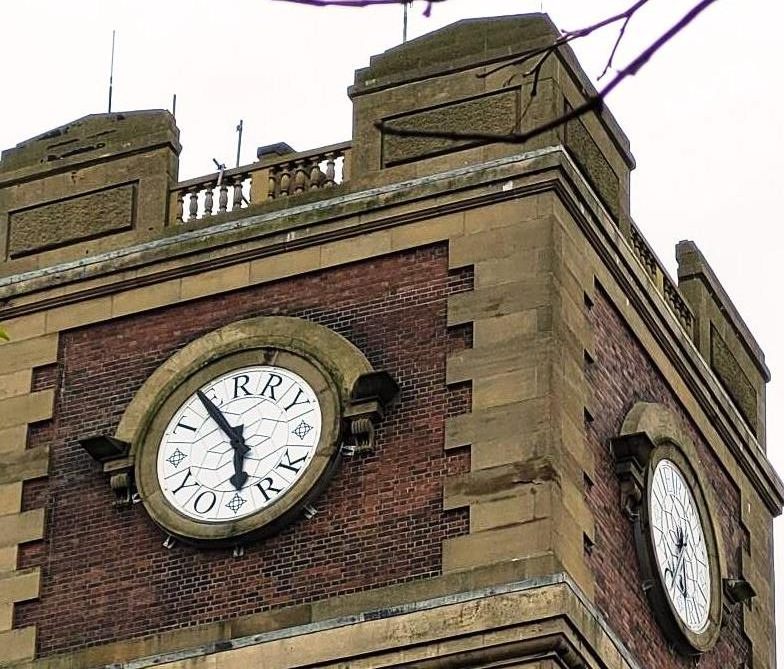 In 2018 the four restored clock faces, each etched with the words 'Terry York', were re-instated.  It was  a complex engineering operation. Now the intricate working mechanism is ready to get the giant hands moving once again.
The movement itself is a rare Waiting Train Clock, made by Gents of Leicester and powered by an electrical impulse from a master clock. It was a visionary concept, well ahead of its time, but by the 1940s had already started to fall out of use.
Time out
According to an excellent report by Maxine Gordon in the York Press, Smith of Derby, who were charged with restoring the clock, faced huge challenges. When they came to remove the clock they discovered that the actual mechanism was not there. Despite extensive inquiries it could not be found so they set about sourcing original parts to recreate it.
This search involved speaking to horologists all over the country, chasing tip-offs and poring over auction house catalogues. Eventually the team succeeded in sourcing the majority of the parts needed. The movement is now ready to be reinstalled and once again mark time for the city.
Sadly the heady chocolate aroma that once emanated so sweetly from the Terry's site is less likely to make a comeback any time soon. With Terry's gone, the locals rely on Nestle – which many still insist on calling Rowntrees – for their daily aromatic fix.
Please use the form below to share your comments about time and the workplace – or to put me right on any factual errors.