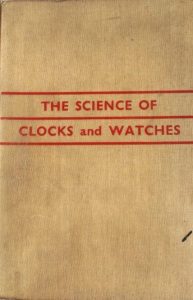 A rare serious academic volume exploring everything from the science of oscillatory motion through the dissipation of energy by a swinging pendulum to the isochronism of balance wheel movements.
Item Description
Hardback. Used. Moderate condition. Well-used former Lees University Union library book with inscriptions on the inside front cover dating from 1968 and 1996. All pages are intact and perfectly legible. Slight damage to top of spine. Colours fading on cover. Embossing of University imprint on some pages.
Published by Pitman Publishing Corporation 1948, second edition.
300 pages.
Sorry – it has been snapped up already.  This book is a rarity and I honestly don't think I will come by one again, but if you want me to try, just let me know and I'll relish the challenge. 
£25.00 plus p&p
Contact us
when you are ready to buy and we'll arrange payment and delivery.