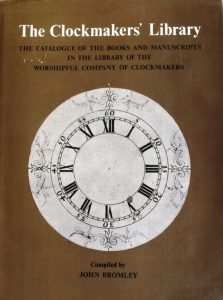 The catalogue of the books and manuscripts in the library of the Worshipful Company of Clockmakers, 1977
Item Description
The Clockmaker's Library. Hardback with dust jacket. Used. Good condition.
Published by Philip Wilson 1977.
With a foreword by Sir Frank Francis, then master of the company this volume catalogues the printed books, manuscripts and portraits, prints, drawings, paintings and photographs then held in the library, accompanied by 52 plates showing amongst other things, extracts from manuscripts. It is a rare treasure trove for the serious horologist.
£15.00 plus p&p
Contact us
when you are ready to buy and we'll arrange payment and delivery.