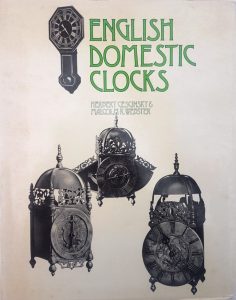 A classic account of the clock styles and types made in England from the late 17th to the 19th century. Long out of print and a collector's item, republished by Spring Books.
Item Description
English Domestic Clocks by Cescinsky, H & Webster, M  Hardback with dust jacket. Good condition – handwritten inscription dated 1970 on inside front page.
Originally published in 1913. This edition – 1969 by The Hamlyn Publishing Group with only two minor amendments from the original.
354 pages. Black and white pictures and illustrations throughout.
The book traces the metamorphosis of the brass lantern clock into the long-case pendulum clock on the one hand and the spring-driven table clock on the other. Of great interest to students and collectors as well as to historians of English social life. To me its interest lies not just in its content but in its early 20th century attitudes. Yorkshire clocks, for example, it tells us, have cases which are 'gigantic – almost elephantine' at a time when 'taste became depraved'. Judgemental, or what? But a great read!
£18.00 plus p&p
Contact us
when you are ready to buy and we'll arrange payment and delivery.