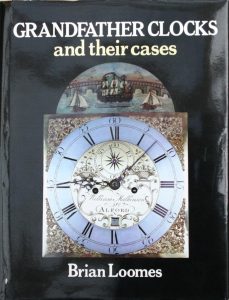 350 pages with over 400 photographs giving a full picture of the history of longcase clocks in the UK.
Item Description
Hardback. 350 pages. Used. Good condition.
Published by Bracken Books, London (1989)
No other book studies casework in more detail.  After a chapter spelling out the terminology of clocks, movements and dials, Brian Loomes' impressive work moves on to highlight the clocks of a specific period or region.  Chapters cover the early eight day longcase, Early country work north and south, white dials.  He has separate chapters covering Scotland and Ireland, one on special, complicated and unusual clocks and closing with a chapter on 'fakes' include clues that show that a clock and case have note always been together.
 £32.00 plus p&p
Contact us
when you are ready to buy and we'll arrange payment and delivery.