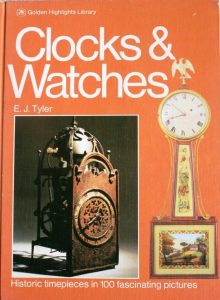 A Golden Highlights Library series book focusing on historical timepieces in 100 fascinating pictures.
Item Description
Clocks and Watches. Hardback. Used. Good condition. Faded to spine. some damage to top right hand corner of front cover.
Published by Golden Press, New York 1974.
80 pages. From the turret clock to the military watch with Yorkshire longcase and American OG clocks plus many others in between. A useful source of reference.
£8.00 plus p&p
Contact us
when you are ready to buy and we'll arrange payment and delivery.