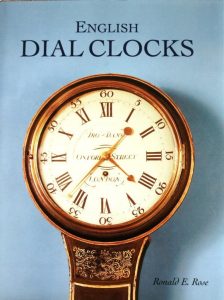 This invaluable book earns its place on the shelf of both the horologist and the collector of these attractive timepieces.
Item Description
Hardback. Used. Excellent condition.
Published by Antique Collectors' Club. First published in 1978, this edition was published in 1988 and reprinted in 2000.
253 black and white illustrations. 42 colour illustrations. 385 line drawings.
This sumptuous volume documents with beautiful photographs the various types of dial clocks over the ages. Their evolution is explained – not only the clocks themselves but also the features such as hands, bezels, pillars and dial surrounds.
£25.00 plus p&p
Contact us
when you are ready to buy and we'll arrange payment and delivery.