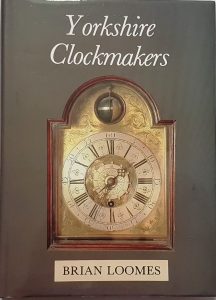 More than just an impressively comprehensive list of Yorkshire clockmakers, Loomes explores the progression in Yorkshire clock styles from the earliest days to 1870.
SOLD
Item Description
Hardback.  196 pages. Used. Excellent condition.
Published by George Kelsall Publishing. New Edition 1985.
Listing the known biographical details of around 2000 Yorkshire makers, from early days to 1870.  The introductory chapters cover the main progression of styles in cases, movements, dials and hands.  The book is written to appeal both to scholars and to the beginner or owner of any Yorkshire clock.
Sorry – SOLD – but I will happy try to source you a copy if you wish.  Simply contact me via the contact page.
£19.50 plus p&p
Contact us
when you are ready to buy and we'll arrange payment and delivery.