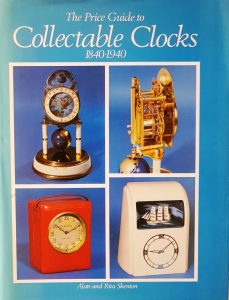 The prices may no longer be applicable (1985 was a while ago) but the wealth of information about clocks across a century from 1840, makes fascinating reading.
Item Description
Hardback. Used. Good condition. Dust jacket.
Published by the Antique Collectors'Club Ltd 1987 (1st edition 1977, revised edition 1985). 480 pages. 34 colour plates. Over 700 black and white illustrations.
Most books on clocks tend to deal with mainly the earlier types or high quality clocks made before the middle of the 19th century. This one explores the merits of clocks which purists still deride (or did in 1985) as having 'no horological interest'. It has a wealth of original research and is a must for any collector of 19th century clocks or anyone interested in the later periods of clockmaking.
£18.00 plus post & packaging.
Contact us
when you are ready to buy and we'll arrange payment and delivery.