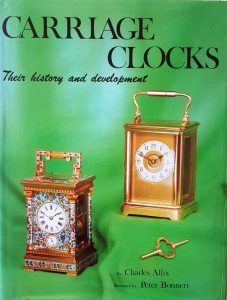 This is the authoritative essential work of reference on the carriage clock, its history, development and manufacture.
Item Description
Hardback. Used. Good condition. Some fading to page edges. Dust jacket intact.
Published by the Antique Collectors Club (copyright 1974) reprinted this edition 1981.
480 pages. Extensive black and white and some colour photographs.
Everybody knows what a carriage clock looks like. Until the publication of this book practically nobody understood the history, development, manufacture or indeed the multi-national nature of this fascinating but unexplored area of horology. This is the first and still the definitive comprehensive study of travelling clocks from their first beginnings to the late 20th century.
Serious about carriage clocks? This one is for you.
£45.00 plus post & packaging.
Contact us
when you are ready to buy and we'll arrange payment and delivery.