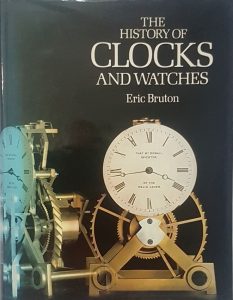 An elucidating story of clocks from pre-clockwork times through to the era of mass-production and the technological age.
Item Description
Hardback.  288 pages. Used. Excellent condition (one hand inscription on inside right hand page).
Published by McDonald & Co Ltd 1989 (first published by Orion in 1979).
Beautifully illustrated and with a number of technical diagrams, this book is both lucid and authoritative, offering a wonderful catalogue of man's horological achievement in the fields of science and art.  Chapters include:
The earliest clocks
The advent of clockwork
Domestic clocks
European mechanical clocks
The time at sea
The development of the watch
and many more.  There is a section on great clocks of the world.
£15.00 plus p&p
Contact us
when you are ready to buy and we'll arrange payment and delivery.