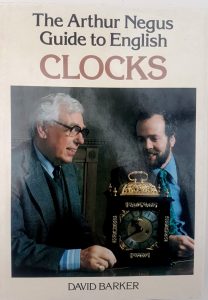 A definitive introduction to English clocks by the brilliant David Barker, as fresh and relevant now as it was when first published in 1980.
Item Description
The Arthur Negus Guide to English Clocks  Hardback with dust jacket. First edition.Good condition. Some marks to top.
Published by Hamlyn 1980.
Forget Arthur Negus – David Barker is the real expert here teaching the reader how to recognise the qualities of clocks not just as objet d'art but as machines. Clocks, he tells us, are a perfect blend of art and industry. with 140 illustrations, photographs and diagrams, will give the collector and clock lover a full appreciation of their beauty, their reliability and their ingenuity. It's a bookshelf must-have.
£8.00 plus p&p
Contact us
when you are ready to buy and we'll arrange payment and delivery.