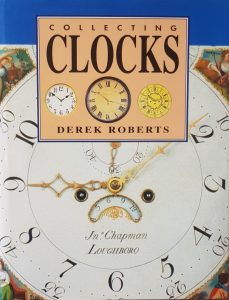 A broad ranging guide to the clocks that are available today. For collectors or those with a casual interest in clocks, this is an excellent source of reference.
Item Description
Hardback. Used. Excellent condition. Intact dust jacket.
Published by Grange Books (copyright 1992) this edition 1997.
128 pages. A wealth of colour photographs.
This easy to read book introduces the major types of clock describing the history of the designs and mechanical innovations. All the usual suspects are there, but it also has chapters on Dutch, French and Swiss clocks, on American shelf and wall clocks, carriage and skeleton clocks.
£5.00 plus post & packaging.
Contact us
when you are ready to buy and we'll arrange payment and delivery.